SAINT
WELCOME TO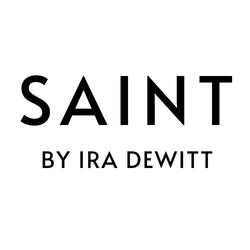 Founded by Ira DeWitt, SAINT Candles are a collection of modern prayer candles each named after a patron saint associated with a specific aspect of human life. Whether someone is battling a health issue, embarking on a trip, buying a new house or trying to find love, there is a patron saint – and a SAINT Candle – to help them on their journey.

Beautifully packaged with individualized scents, each full sized candle comes with a prayer to the patron saint, holy oil as part of the wax (blessed by both a priest and a rabbi), and an Italian prayer coin embedded into the candle which reveals itself once the candle has burned down. These unique features and exquisite fragrances make SAINT candles an unforgettable gift that touches peoples' hearts.
SAINT fragrances are created using traditional extraction techniques from plants and flowers to obtain the essential oils, isolates, absolutes and resins necessary. These are then expertly blended at high concentrations for a sacred and aroma-therapeutic experience.
Launched in 2019
Made in the USA
Minimum Opening Order: £500/€550 Multi Brand Buy
Order Lead Time if out of stock: 3-4 weeks

Ships from our warehouse in the UK